Choose an innovative and modern interior
An innovative glass keypad with touch-sensitive buttons with customisable icons to control functions inside a home or any building, from the simplest, such as lighting management, to the most advanced, such as temperature, humidity and scenario management, the Tatto range offers maximum flexibility and customisation both aesthetically and functionally, guaranteeing a unique and immediate user experience.
From a single switch, it is possible to centralise up to 12 commands such as lighting control, raising and lowering blinds, temperature regulation or control of users' favourite scenarios.
The "Tatto" wall-mounted devices are perfectly suited to modern, innovative and ambitious living. They offer a clean, timeless design that blends in perfectly with any interior style.
Customize your icons and functions
As the icons are customisable, it is possible to choose your favourite pictogram and associate it with one or more functions, which will make it easy to identify each command.
With the products in the Tatto range, you can choose to keep all the icons on, just a few or turn them off completely, programming the functions according to your needs. An illuminated icon can signal specific events, such as an activated alarm, shutters raised or lights on.
The Tatto product range, with its sleek design in line with contemporary architecture, is available in white or black, with white LED backlighting. On request, the keyboard can be customised with graphics or logos, making it suitable for use in hotels, shops, showrooms, etc.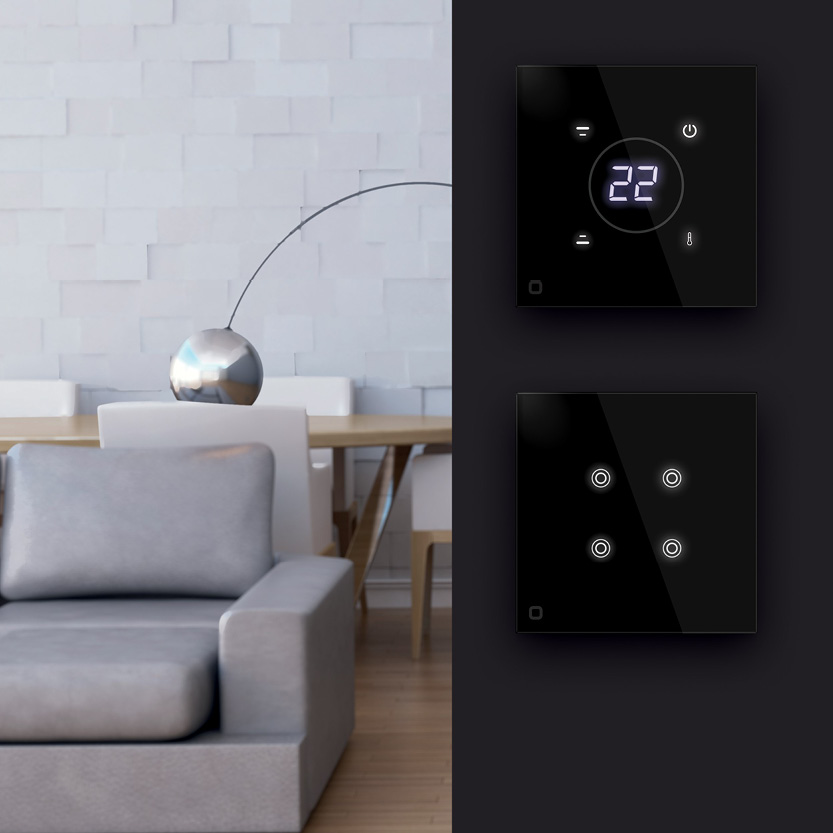 Use the "ghost" mode
When ghost mode is set, all icons become invisible. Thanks to the presence of a proximity sensor, the icons reappear immediately when touched.
Courtesy light
Our touch switches can be used as courtesy lighting, thanks to the light that is activated on command and illuminates the contour. This function is very useful because it illuminates areas of the house where you may be taken for a walk at night or when all the lights are off. Furthermore, it is possible to manage this function via time programming and associate it with other commands.
The surface of Tatto products is made of tempered glass, a tough, easy-to-clean material.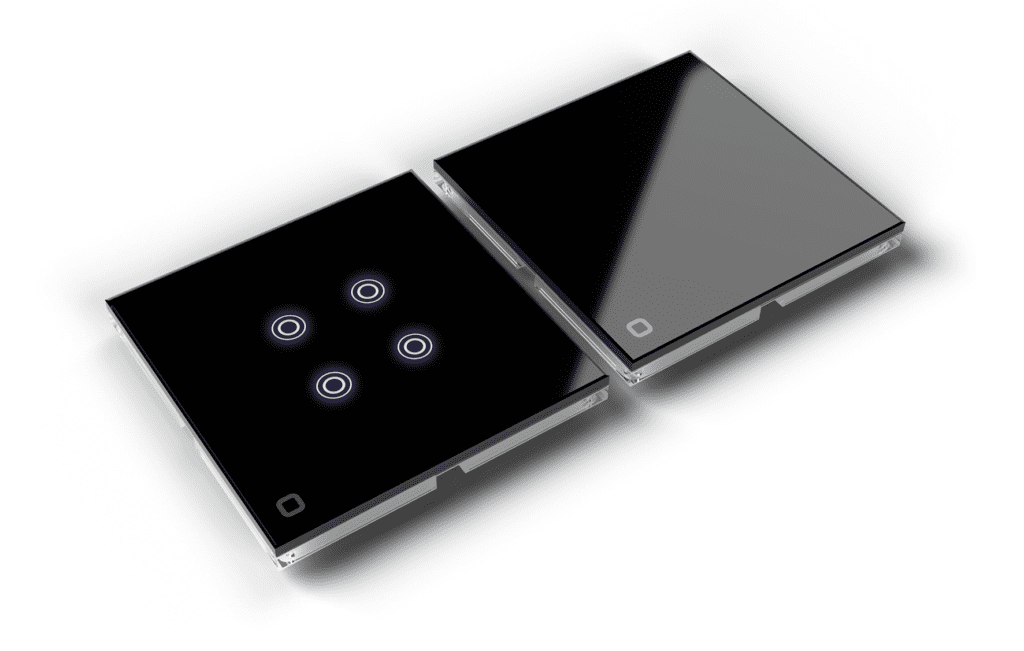 TECHNICAL SPECIFICATIONS
Ideal for lighting control, motorization of blinds and shutters, scenarios, status feedback and courtesy lights
Square format: dimensions 80x80mm
Rectangular format: dimensions 120x80mm
Bus power supply
Independent control of each LED, courtesy light and beeper
The touch keyboard can be configured with 1, 2, 3, 4 or 6 buttons.
Humidity and temperature sensor integrated in the thermostat for temperature and humidity control.
Each button can execute two different commands or scenarios (short or long touch)
Audible signal for button press confirmation (can be switched off)
ghost" mode that makes all icons and graphics invisible
Proximity sensor for automatic pictogram illumination (even in ghost mode).
Capacitive touch sensors
Version for installation in standard boxes :
– 503 (rectangular with horizontal and vertical installation: glass size 120×80 mm)
– 502 or D60 (square, size 80×80 mm)