Control your home from a stylish and interactive home automation screen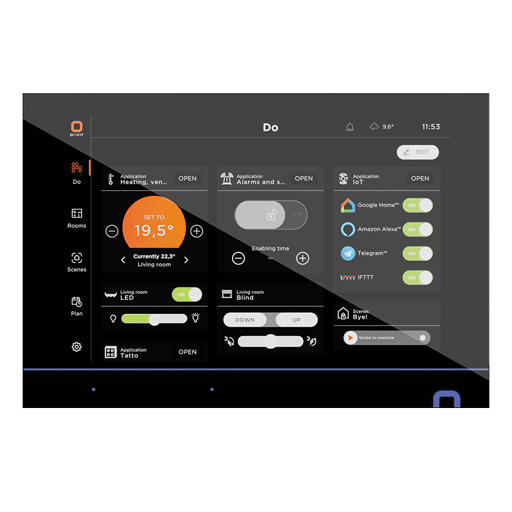 All your smart home functions centralized on a single interface
Control and monitor your smart home from the Do.Touch wall-mounted touch screen. Its unique and intuitive interface will provide you with a unique and personalized user experience for each member of your family.
Premium quality design touchscreen
A wired solution that guarantees a permanent connection without battery loss
An interactive and customizable system
A range of screens in different sizes and finishes
Simple and fun centralization of your entire home automation system
Native and immediate integration of your Do.App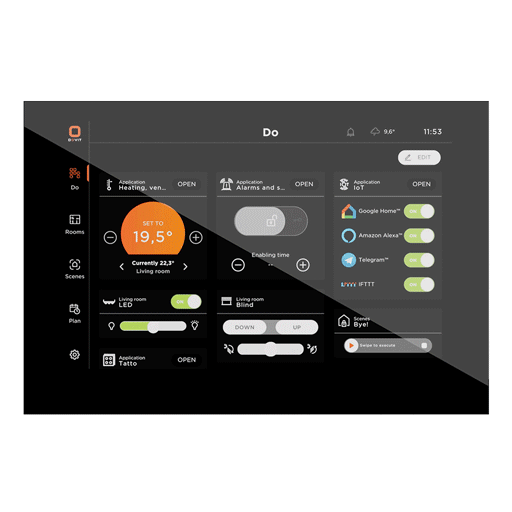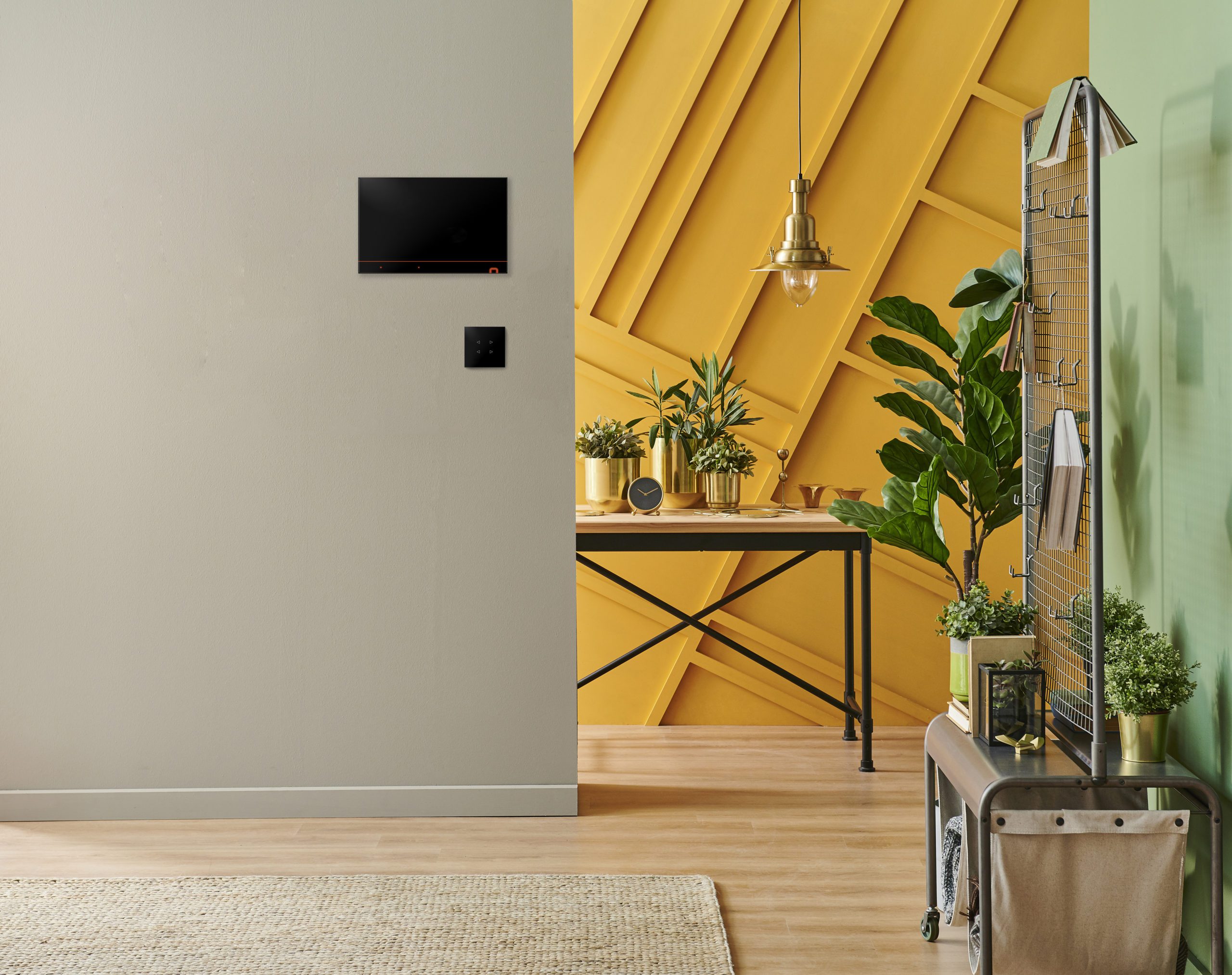 Do.Touch, the design screen with premium finishes to control your smart home
Touch, command, control.
Improve your living comfort with the innovative Do.Touch home automation screens! These touch and connected screens have been designed to offer you a new contact with your home.
The design and quality of your smart home is one of our priorities. Dovit's connected screens have been designed to match all interior styles.
Our range of Do.Touch screens extends from 5.5″ to 11.6″ with a wide choice of finishes and colors. Black, white or with mirror reflection, there is definitely one that matches your home and its interior.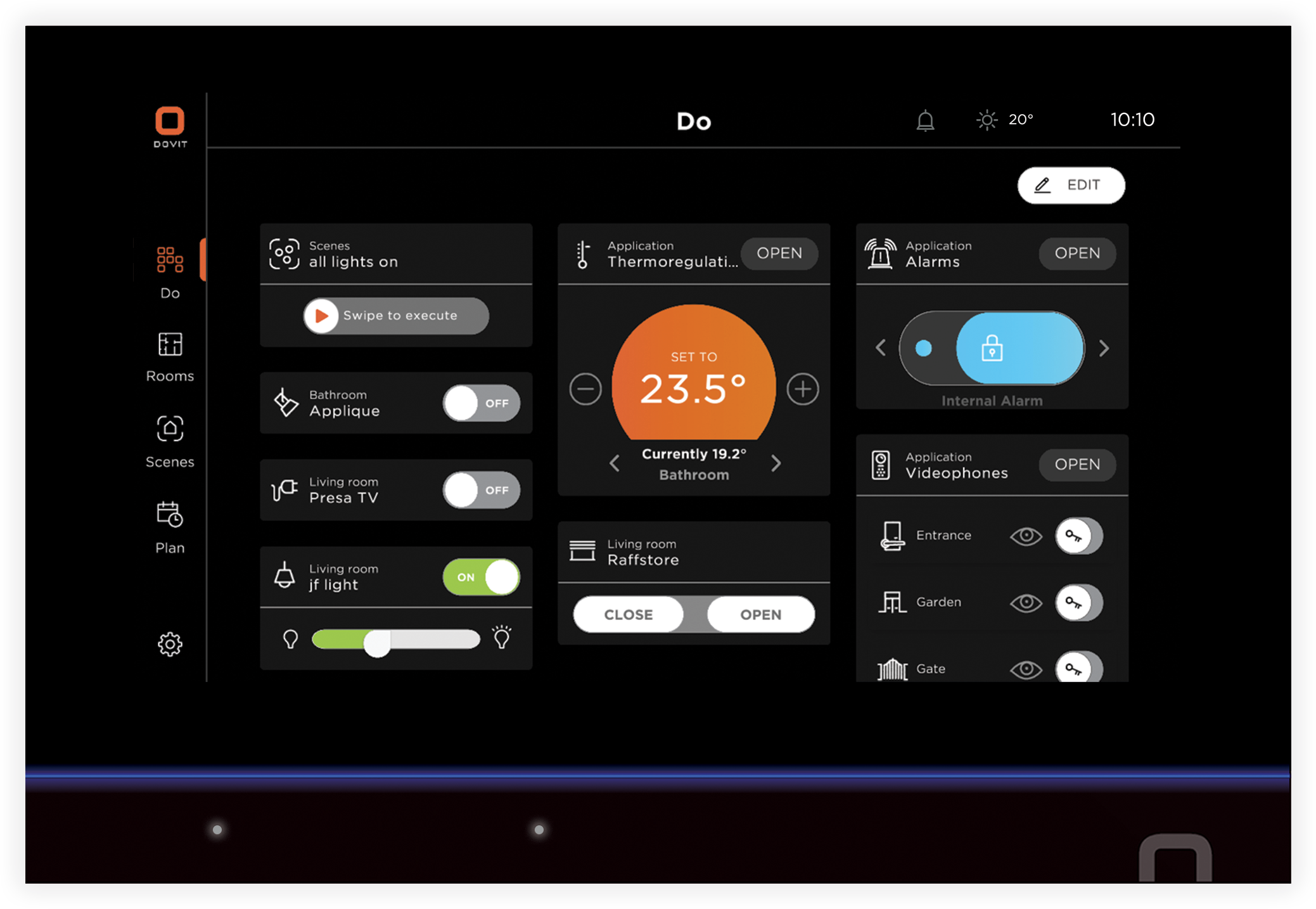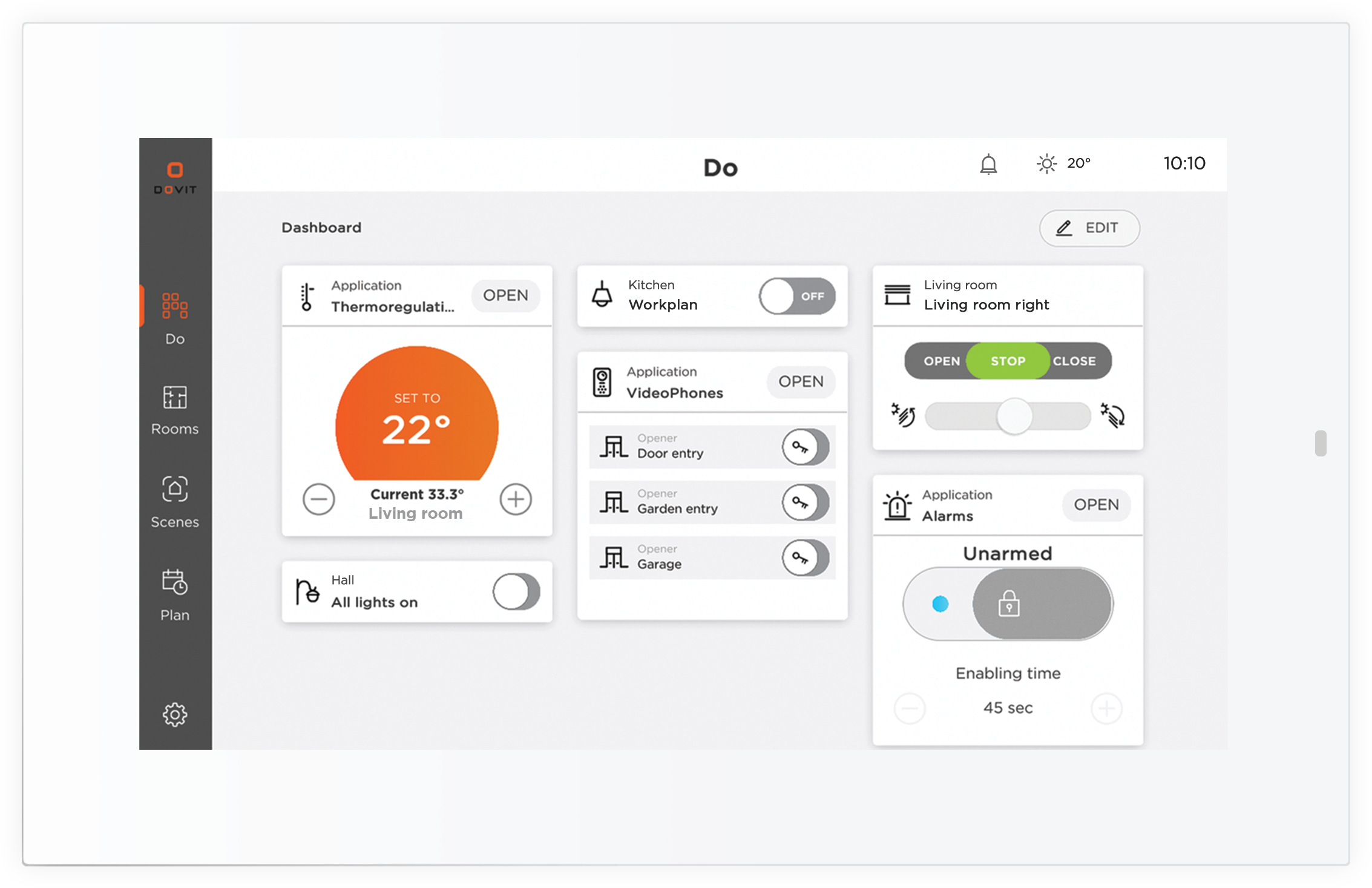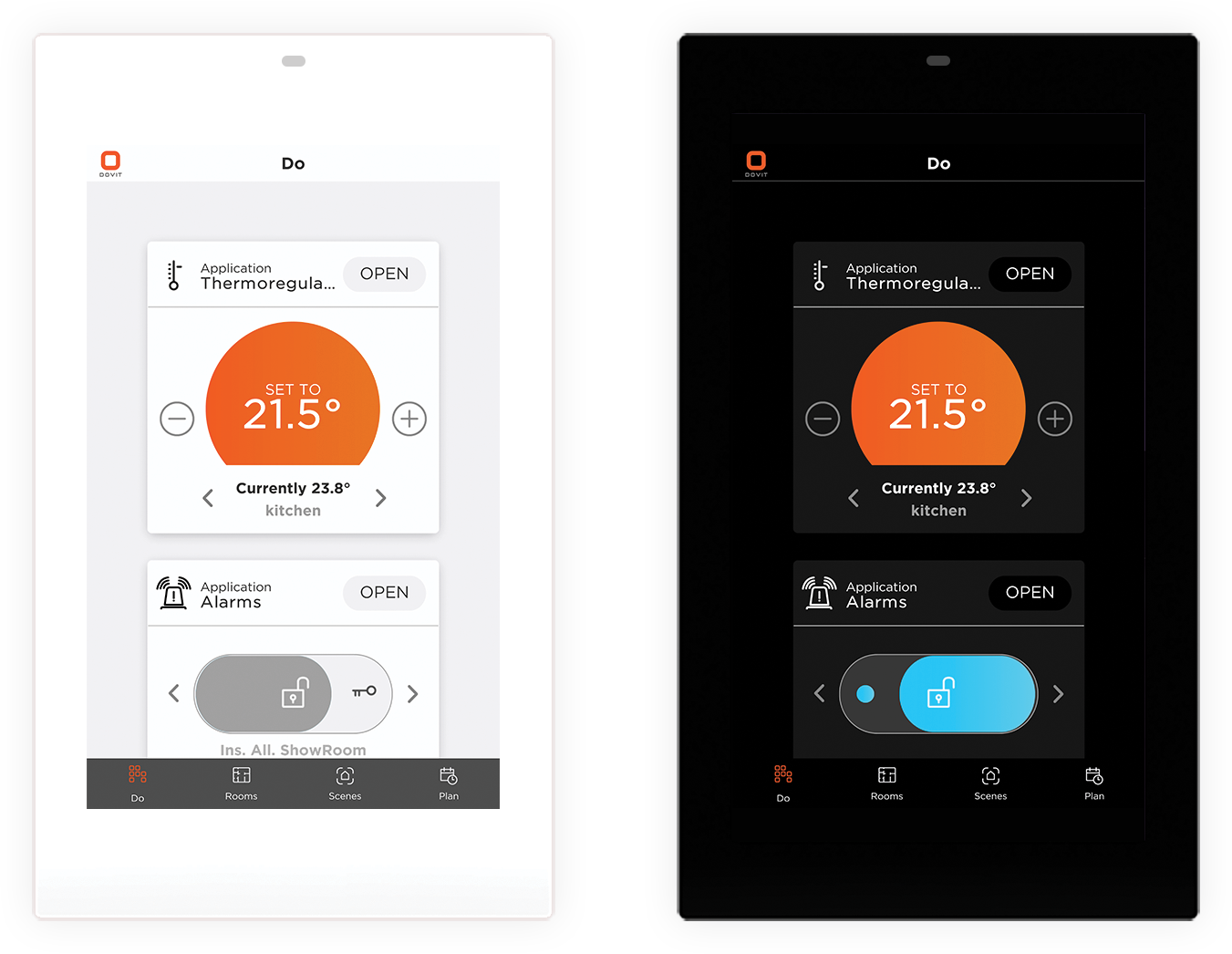 A reliable solution available all the time, to everyone
Better than a home automation tablet that discharges or gets lost in your child's sheets, our Do.Touch wired screen offers you permanent reliability without loss of battery and connection.
Control all the functions of your home automation system from your home automation screen or from your smartphone when you are on the move.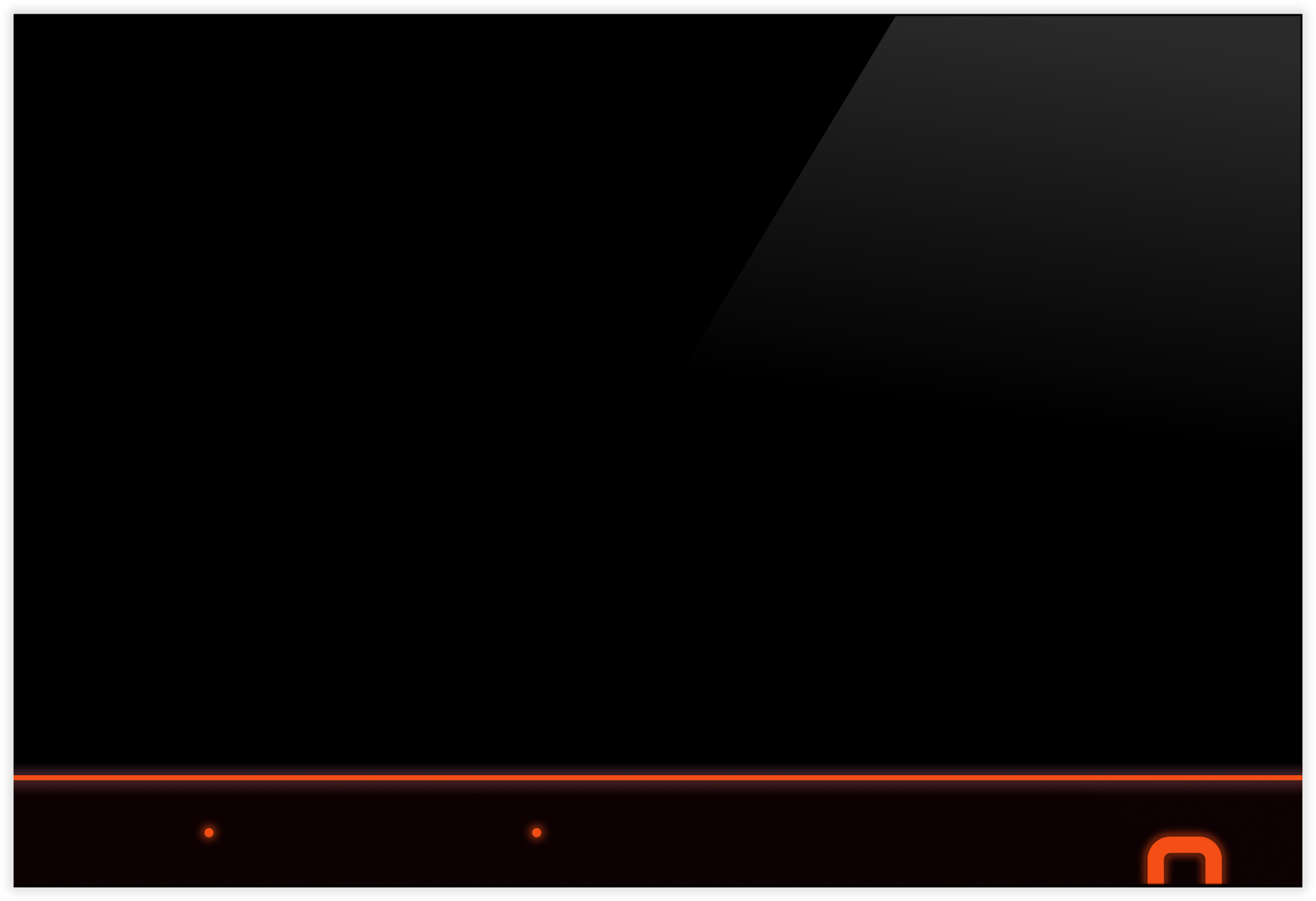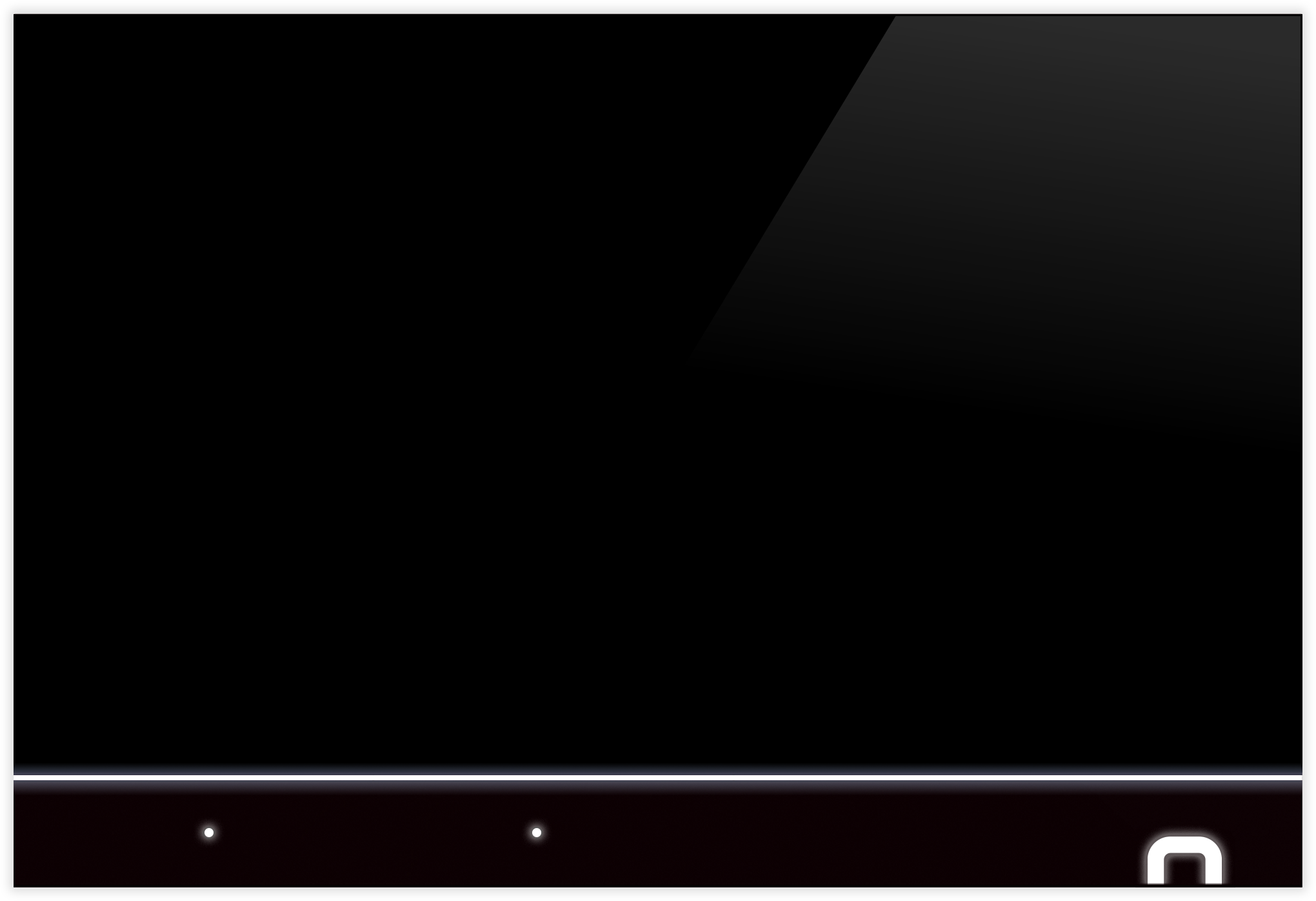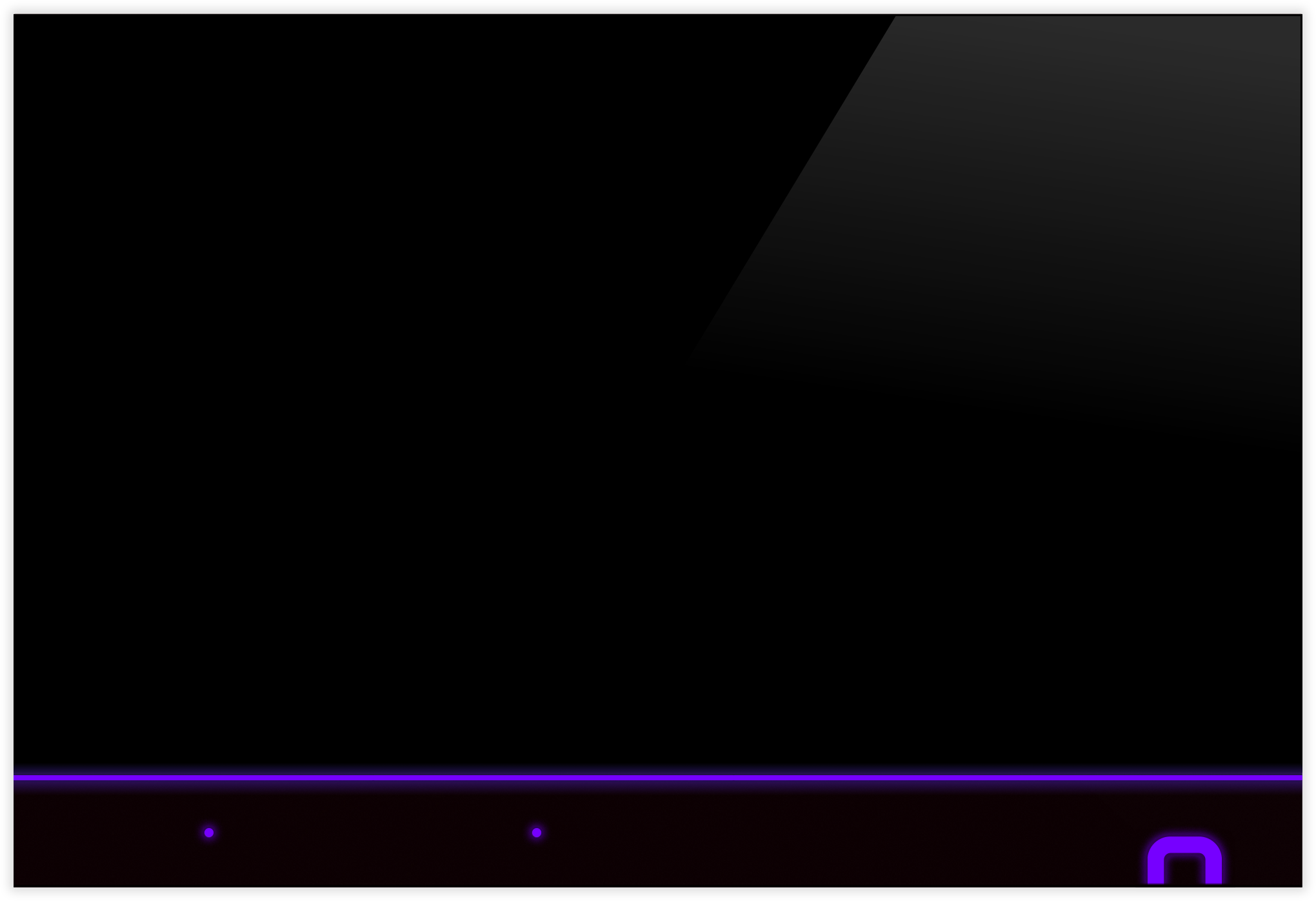 A stylish wall-mounted touchscreen for a refined interior
Say goodbye to alarm keypads or video door phones cluttering your walls. Our Do.Touch touch screen range allows you to embellish any room in your home with elegant technology and materials.
The Dovit screen is a real central point that is always available and active, providing all the functions of your home automation system, such as your alarms, cameras, door phone and all the other classic home automation functions such as lighting, temperature or blinds.
Your centralized home automation system in a simple and user-friendly app
Your Dovit home automation application can be found on your wall screen. Its intuitive interface gives you quick access to all the home automation functions of your home.
With clear menu navigation and unambiguous symbols, you can intuitively control all home automation functions and scenarios.
Without any configuration, Do.App recognizes all the functions of our Dovit home automation system and is immediately ready for use. 
Customize the homepage of your app and save your favorite commands, dashboards and scenarios.
Directly synchronized with your account and your smartphone, the app is personalized for each member of your family.
All the latest home automation news on our blog
Don't miss any home automation news and follow the smart home news relayed by our experts.
Discover the magic of home automation for your vacation home! Our blog post unveils the endless possibilities...
Thank you for your visit to our stand in Bologna during the famous construction fair 🏗️
4 years after the last edition, the famous lighting show is back Digitalization, connectivity and sustainability....
Toute l'actualité domotique sur notre blog
Ne manquez aucune actualité domotique et suivez les nouveautés smart home relayées par nos experts.